My Monkey has a giant personality. It is so big it almost doesn't fit inside his tiny little body.





Part of his giant personality is a giant sense of humour. Monkey loves to make people laugh. Being a four year old boy, he specializes fart jokes, poop jokes and bum jokes. He has an enormous belly laugh and he uses it freely.

"Monkey," I'll ask, "have you brushed your teeth yet?"

"Fart!" he'll answer, "Ah ha ha ha ha!"

It can be frustrating, but that belly laugh is hard to resist.





Along with that giant personality comes a lot of drama. Monkey had truly terrible twos. He threw tantrums several times a day. Now Monkey has calmed down quite a bit, but he still takes things too much to heart. His emotions often seem to be too big to keep inside. He wants to be good at everything and when he can't seem to figure something out he gets so frustrated he stomps around, arms flailing, "I can't do it!". When I have to discipline him, it breaks his heart. If I tell him I'm upset with him he cries big crocodile tears, "I sorry Mommy! I so sorry!" He demands attention and will repeat my name over and over and OVER until I give it to him.





With Monkey's great big personality comes love. Monkey is exceptionally caring. He shows impressive empathy for someone so small. He comforts others when they're sad or hurt. He hates to be the cause of upset. He loves people and he's a natural charmer so people usually love him right back. He gives the best bear hugs and loves to snuggle. He loves animals and cares vigilantly for his stuffed toys. He really is such a little love and a joy to parent.





Life with Monkey of the giant personality is sometimes challenging, but it's never dull and it's always rewarding.




I hope he never changes.


For more Photostory Friday go to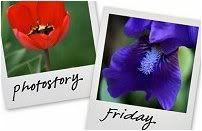 Hosted by Cecily and MamaGeek