Yesterday I was snapping some pictures of Buddy in his new camouflage touque.

When Monkey noticed I was taking pictures of his brother (without him!) he grabbed his doggies and jumped into the frame.

I love the results.

Two boys. Two hats. Four dogs (stuffed). It doesn't get any better than that.



PS: If you took pictures of my heart, I'm sure the pictures would look just like these.


For more Photostory Friday go to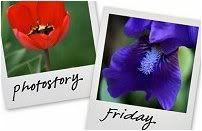 Hosted by Cecily and MamaGeek