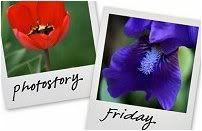 Hosted by Cecily and

MamaGeek




My photos and their photostory shall by combined this week by way of captions. Yay!
I know you're probably tired of pictures of Jack O' Lanterns. But today
is
Halloween and this year, at our house, the Jack O' Lanterns are special... This year my boys designed the faces for their Halloween Jack O' Lanterns all themselves. They drew them on paper first, then they transferred the pictures onto their pumpkins. The level of excitement here while we were carving our pumpkins was not to be believed... It was great.
But first, we had to de-goop the pumpkins.