This year we were not going to have a Christmas tree at home because we're traveling for the holidays but I couldn't resist picking up a tiny little tree when I saw it on sale. We had lights for it, but no ornaments. The boys and I decided that we would hand make the ornaments this year. We got out paper, glue, paint, markers, glitter, pipe cleaners, pompoms and stickers and went at it. Here are some pictures of the results:



Hard at work
We made stocking-shaped ornaments
And angel-shaped ornaments
And circular ornaments
And star-shaped ornaments
Pipe cleaner candy canes, a crochet garland and a star for the top.
Here are two very proud boys.
It's not the most beautiful tree, but we think it's very special.
For more Photostory Friday, go to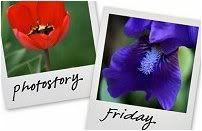 Hosted by Cecily and MamaGeek
This is also posted at Lulu's Hook.