One weekend in September my family and I went on a walk. If you follow this blog, you know that this isn't out of the ordinary for us. On this particular day, we decided to explore a walking trail that is quite close to where we live.





Part of the trail was closed because of construction. They were putting up power lines. The enormous metal pylon kind.



They had this marker on the side of the dirt track to direct the trucks which direction to take to reach the construction site:



Do you see what that is? Here's some close-ups:


Still can't really tell?

It's a Tim Horton cup, duct-taped upside down on a metal post and painted orange.


Do you see it now?

Aside from the hilarity involved in using a coffee cup as a roadside sign, this is particularly funny because a Tim Horton's Coffee is the quintessential Canadian beverage. It is impossible to do any kind of heavy lifting without one. Canadians usually have theirs double double, which means two creams, two sugars; but we (at the Reluctant Housewife household) drink our Timmy's with just milk. I imagine that, since construction involves heavy lifting, a Timmy's cup was what easily came to hand when they needed to put together the roadside sign. A Timmy's cup, a little orange spray paint and voila - the quintessentially Canadian roadsign is born.


For more Photostory Friday go to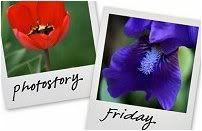 Hosted by Cecily and

MamaGeek