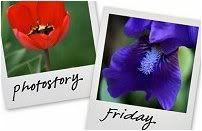 Hosted by Cecily and MamaGeek




I'm jumping on board the photostory Friday bandwagon.
I like this picture because that cute little grin Monkey has on his face is all for me. And you can see me grinning back in the mirror behind him. There's a connection there. And it's not the worst picture of me ever, either. Also, check out the ball of fire in my left hand. Bet you didn't know I could harness the power of fire, did you? Nah... I'm just kidding around. Of course, that's the camera flash. Hee-hee. Had you fooled, didn't I? No? Oh. Okay, then.
This picture of Monkey is from about a year ago, in fall 2007. We were visiting the fam in NB. The boys got dressed to visit my brother and they looked so cute, both wearing jackets, ball caps and backpacks that I grabbed my camera to capture all of the adorableness for posterity. For good measure, here's a picture of the both of them together that was taken at the same time:
See all the cute?
And that's my photostory.
For more photostories click over to
What Works For Us
or
My Chaos My Bliss
.
Want to play along? Get the rules by clicking the Photostory Friday logo at the top of this post.